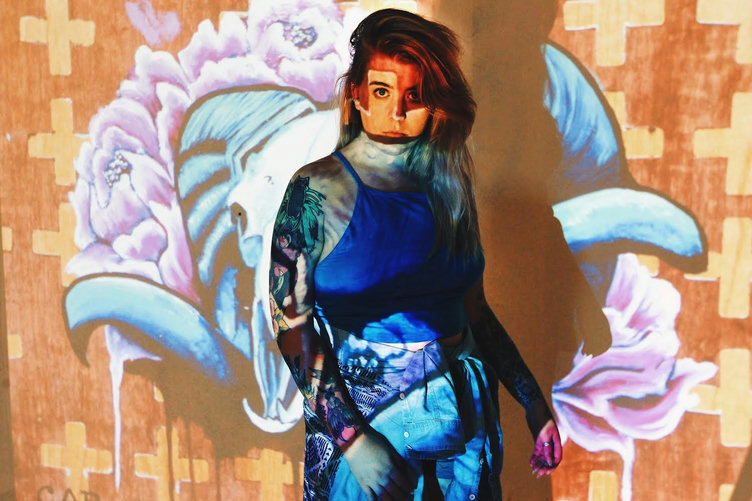 Christine Riutzel
Bio: Christine has lived in Ozarks for 20 years. She dabbled in arts when she was a child but didn't get serious about art until her homeschool high school art teacher opened her mind to the possibilities. Christine's teen years were traumatic. Surviving day to day, it was difficult to create. Christine grew up in an extremist, legalistic community that led to being a member of a Calvinist church turned cult. Once she had started healing she created consistently at the age of 25. Unsure about the immense investment in art school she dove into cheap online courses. Since 2016 she has had several fine art exhibitions and established a full-time career in the arts, with murals being her main source of work. She serves on the board of Directors for The Southern Missouri Arts Connection as Vice President and serves on the board for Parks and Recreation in Hollister. She creates in a studio located at SMAC with her main focus of using SMAC as a way to create public art. Her goal is to continue to use public art as a way to inspire the young underprivileged artists in an area where the visual arts are easily overlooked.
Artist statement: My primary medium has been acrylic paint and mastering mural making. I now desire to take my art into a new period. Taking a break from canvas, I've collected scrap materials, learned how to use power tools as a cheap and unique way to make multimedia works.
I've started to use my creativity as therapy. Being raised in the Bible belt to ending up in a cult, I've seen a huge divide in the church and people hurt by them. My solo show "The Disagreeable Giver" takes a deep dive into the impact of fundamentalism, legalism, and narcissistic abuse has had on my life. This collection of work uses imagery of childhood, 90's nostalgia, Biblical, and religious symbolism to express experiences of spiritual abuse and my journey of healing and finding identity.
As a recovering people pleaser and individual indoctrinated by Fundamentalism I have struggled to discover my identity and avoid creating from emotions for fear of judgment. My latest work expresses this phenomena. Although the subject matter is broad among my work my style is distinct. Inspired by Pop-art, I call my work contemporary realism. I want people to feel positive looking at my art but to look for deeper meaning as I find deeper meaning within myself.
Studio located at